Why consumers have lost confidence
Over the past year, hard to understand bills and offers along with the legacy effect of increases in retail electricity prices have eroded trust and weakened consumer confidence in retailers. As a result Consumers are increasingly taking matters into their own hands.
What consumers have told us
We have seen that trust has been eroded, along with weakened consumer confidence in the energy market. This has been due to hard to understand bills and higher prices which have been experienced over the past couple of years.
Over the past year:
Consumer trust in the sector fell from 50% in 2017 to 39% in 2018.
Consumer confidence that the market was working in their long-term interest fell by 10% to 25%.
Confidence in the information available to make good decisions fell by 7% to 50%.
Confidence in consumers' own ability to make choices about the energy market fell by 11% to 58%.
Satisfaction with the level of competition fell by 6% to 43%.
Satisfaction in value for money fell by 4% to 44% for electricity.
Satisfaction in value for money fell by 4% to 60% for gas.
Consumers say they are less satisfied with the value for money in the electricity and gas sectors than they are with banking, mobile phones, internet, water and insurance services.
Annual electricity bills for the representative residential consumer increased across regions by $110 to $316 (9% to 22%), except in South East Queensland, where bills decreased by $70 (5%).
Annual gas bills for the representative residential consumer increased across regions by $14 to $192 (2% to 17%).
Small businesses faced annual electricity bill increases of between 5% and 28%.
Competition is continuing to develop
There are 16 retail gas brands and 33 retail electricity brands across jurisdictions in the national electricity market.
While the big 3 (Origin Energy, AGL and EnergyAustralia) maintain dominant positions in each jurisdiction, there are signs a number of electricity retailers are strengthening their competitive positions.
In jurisdictions with price deregulation the big 3's market share continues to fall.
Second tier retailers who have generation assets underpinning their retail operations are increasing their market share, but other retailers without generation assets are finding business more difficult.
There is a structural shift underway in the market with continued growth in rooftop solar systems and the emerging growth of batteries.
Competition in action: Smaller retailers making inroads into the market share of the big 3 including Origin Energy, AGL and Energy Australia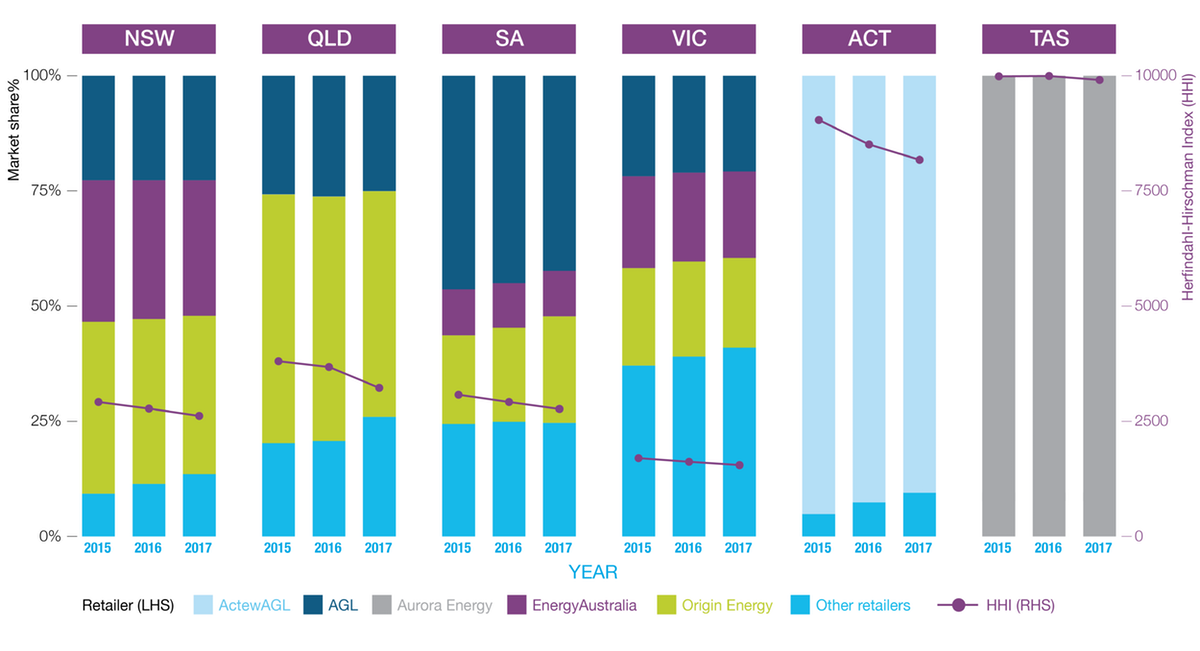 Consumers have to ask to get a better deal
It is difficult for consumers to benefit from competition in the face of complex and confusing tariff structures.
Commercial comparator sites can be helpful for customers to navigate the complex energy market. But commercial comparator sites sometimes lack transparency, and increase marketing costs for retailers.
Customers who take the initiative and threaten to change retailers are often rewarded with the best pricing. Unfortunately the opposite is also true. Loyal consumers who don't switch are rarely offered the best energy deals.
Innovation in pricing and new products is occurring at the margins, but not fast enough.
Not enough is being done to assist vulnerable consumers in a meaningful way.
Solar is cheaper than ever and more people are installing
Visit the AEMC project page